How To Choose Jockey Wheel
19-11-2019
How To Choose Jockey Wheel
Jockey wheel is an indispensable part of the trailer. Jockey wheel has many different types and different load-bearing capacities.
When choosing a jockey wheel for a trailer, something need to be considered.
1.Jockey Wheel Weight Capacity.
When you choose a jockey wheel, its load-bearing capacity should be considered first.
The weight of jockey wheel can be generally divided into 350lbs, 750lbs, 1000lbs, 1500lbs 2000lbs. Different load capacity jockey wheels are selected depending on the trailers.
The 350lbs jockey wheel is used on small trailers.
The 750lbs and 1000lbs jockey wheel are used on light trailers.
1500lbs jockey wheel used for tandem trailer
2000lbs jockey wheel are mainly for caravan and heavy duty trailers
2.Different Kinds of Wheels
The wheels of the jockey wheel are generally divided into solid rubber wheel, plastic wheel, rubber + steel wheel.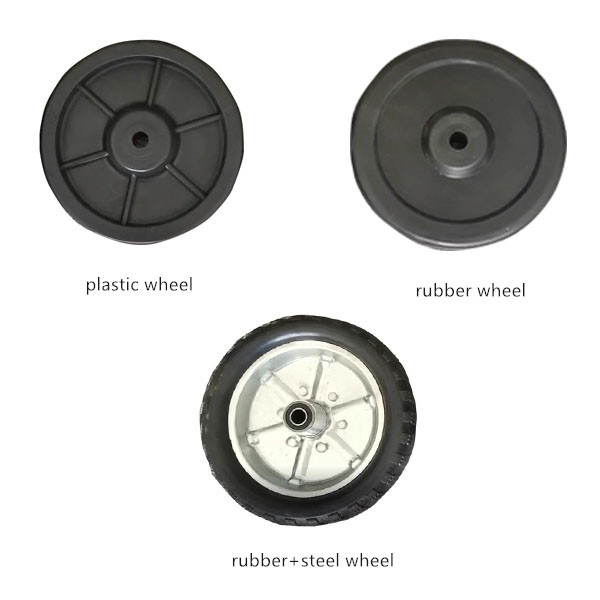 For differences of the solid rubber wheel and plastic wheel, please refer to
http://www.hahtrailerpart.com/news/jockey-wheel-with-plastic-wheel-and-rubber-wheel
3. Installation Method
Most jockey wheel are connected to trailers by a U bolts. There are clamp connections and bracket connections.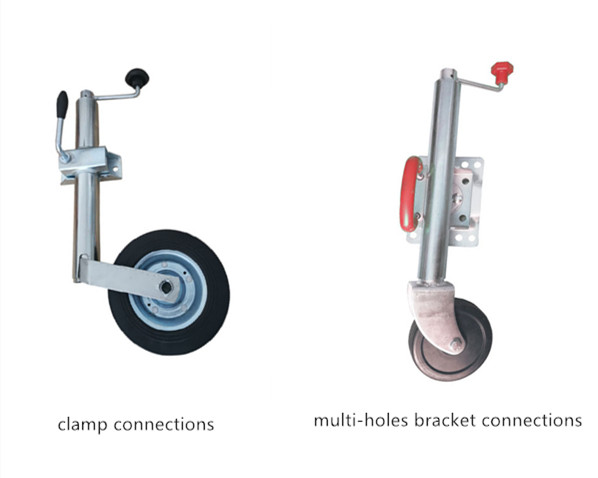 Jockey wheel with clamp is very popular in Europe. The clamp can be separated from the jack. Therefore, production and transportation are relatively simple and the price is relatively low.
Multi-hole Swivel jockey wheel is popular in Australia. There are multiple holes in the bracket, so it can be used on different sizes of trailer A frame. The biggest advantages is that it can be swivel. It can be kept parallel to the trailer when not in use by swivel. Such jockey wheel will not take much space when they are not in use. Due to the complexity of the manufacturing of this bracket, the swivel jockey wheel is slightly more expensive.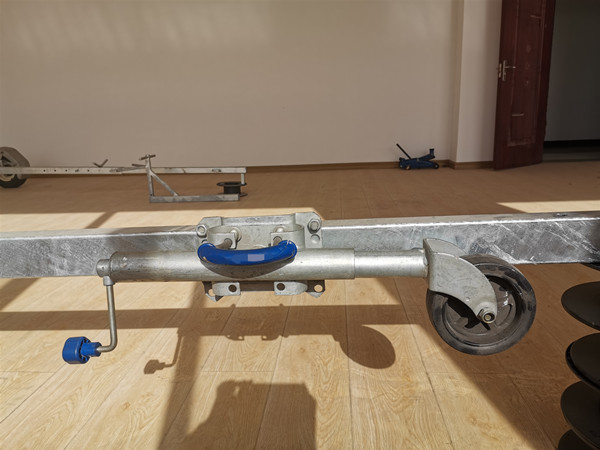 4. Surface Treatment
The surface treatment of the Jockey wheel can be divided into hot-dip galvanizing and zinc plating. Most jockey wheel are zinc plating surface finish. Very few jockey wheels used on boat trailers are hot-dip galvanized. The corrosion resistance of hot-dip galvanizing far exceeds zinc plating so they are more suitable for boat trailers. We recommend that boat trailers use hot-dip galvanized surface finish jockey wheel.
Any questions about jockey wheel please leave a message to us.